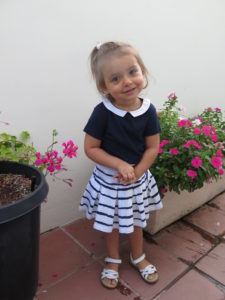 A few weeks ago, I posted a picture of my daughter Chloe, age 2 1/2, on her first day of preschool. She was smiling so proudly in her navy top and striped skirt—a schoolgirl ready to take on the world.
But 20 minutes later, when I attempted to drop her off and say goodbye, it wasn't a pretty picture as Chloe grabbed my leg, screamed, "Don't leave!" and burst into tears.
I thought I'd done everything right. I chose a sweet preschool with warm, nurturing teachers and an emphasis on learning through play. I'd committed my entire summer to being available for a transitional program called "stay and play," during which my kid could get used to her new surroundings and make friends while I sat in the corner drinking coffee. I'd practiced leaving her at school for short stints, proving to her over and over again that "Mommy always comes back."
Though she was on the young side for her grade, Chloe had seemed ready and excited to start preschool. And truth be told, I was ready and excited for her to start preschool.
As a stay-at-home mother of two, I'd been tethered for seven years, and while I've loved hanging with my little buddy all day, I was dying for some me time. In fact, I had a notebook filled with lofty goals for what I might accomplish during morning preschool. I was going to get in shape and lose 10 pounds, make photo albums from the last seven years, learn Spanish and maybe write a novel. Ha!
As I stood there, comforting Chloe, I felt all my goals evaporate. I wasn't going to the gym. I wasn't going anywhere.
The story continues at mom.me…